Steve's Place in the 80's
"The Early Days"
It's been fun watching this place grow. Starting in 1979, a single 1950's 40ft. trailer & an old truck box to serve as a makeshift garage / work shop was brought to this desert wasteland. Now 38 years later, it has grown into large desert off-road machine compound / campground. 34+ outbuildings, mostly old campers and travel trailers that friends of Steve stay in for a weekend outing. It's nice to have a place to go and get away from the city. And thanks to Steve and his lovely wife Linda, we all have a place to get away and have some FUN.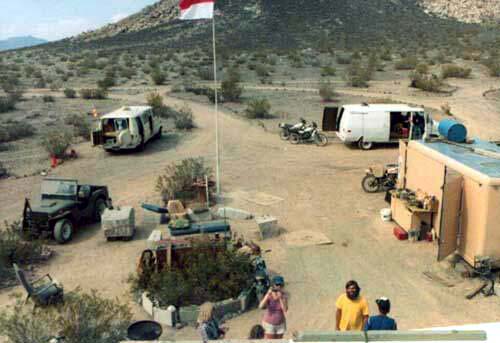 Shot from the water tank, 1982.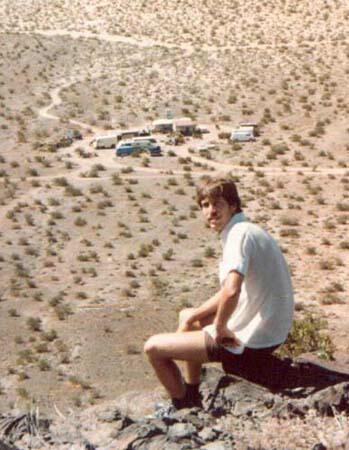 ( 1983 )
Plenty of room.
 
 
Brian working on his buggy.(1985)
The Infamous "Bread Truck" that could
fit a buggy inside it.(1985)
These two cabins look familiar, ( Years 1985 & 2000 ).
Need to get away for the weekend? Try one of these cozy one room cottages. No electricity, No water, No heating or air conditioning.
No phone, No maid service. It does have flow through ventilation, pool, easy drive up access, great view and great neighbors.

Complete with pool. Cool in the summer, cold in the winter.
Ok, so it's a small pool. But it has a great view.
Home made ( Steve Mason ) propane water heater.
No thermostat. But were roughing it, remember?
( 1985 )

Steve driving his 850cc Renault powered buggy in the sand dunes.
No endangered sand fleas here!

( 1985 )

Oh, we had some fun !
Updated 2/1/2013, 05/11/2017
You are #
as of Sept. 5, 1998
1029
---