1955: During my search for a larger house for a larger family I found Old Pirate Lane. Here stood one old country type red farm house, with matching barn, positioned on this rarely traveled grass, gravel, and dirt track which led to the edge of a little airport. The house faced Graham Street, in Orange County, between Huntington Beach and Westminster.

To find this open country I drove, from Long Beach, south on Pacific Coast Highway, past Seal Beach, south through Sunset Beach where, on the east side of the highway was this large swamp. I learned later this is where in Fall the hunters would come out in force during the duck hunting season. In fact, husband Bob had, several years before this, hunted in this area with a fellow from his office, who had the painful experience of not ducking quick enough to escape the buckshot which cost him his sight in one eye. As I neared Wintersberg, the only road from the east leading into P.C.H. I noticed, on my right, the cardboard shacks along the Pacific Electric tracks on what was nicknamed 'Tin Can Beach' The beach itself was beautiful but blighted by its messy surroundings. Also on my right as I turned east on to Wintersberg I looked across to the small mesa where stood the picturesque old
Bolsa Chica Gun Club which housed many beautiful mosaics. Several years later this building was completely demolished.

Still traveling east, and driving past another of the three gun clubs in this area, I continued still on Wintersberg, (which later was renamed to honor a county official, Mr.Willis Warner) past Bolsa Chica Street. With one or two houses on my right but mostly farmland, on my left was a small airport, called Sunset Beach Airport. I kept driving east, then turned north at the Meadowlark Golf course on the dead end street called Graham. On my left I saw Mr. Shawnley's very productive farm with its beautifully rich black soil, and luscious ears of corn.

The golf course stayed on my right, (after the peat dip at the corner) but to the left I saw what looked like a deep hole, later we called it the "Sand Pit" or the "Gravel Pit". It was in this pit that Vern Hamilton and a friend s1arted their own little bow and arrow club, which grew by leaps and bounds. This was the beginning of a present day archery club. High on the north bank of this pit stood a small white building which at that time was being used as a Baptist? church. Another hundred feet or so along Graham Street, I stopped. There, tall and handsome, and looking west, stood a beautiful big red and white farmhouse on this small gravel road called Old Pirate Lane.

Going back in history I find that this farmhouse was built by John J. Graham in 1906 at a cost of $5,500. The builder on this house was Al Bird,
who lived in Santa Ana and lived in a house identical to the house being built here. (Al Bird was an uncle to Charlie Graser). J.J. had to haul the

lumber from Santa Ana and was told by the salesman that if given $12.00
he would be then making $1.00 a day - quite a reasonable amount for those days. During the depression the Grahams lost the house and it was lived in by several other families until the early 1940's the Martins sold to Claude Graham. Back in J. J. Graham's day his wife would, at 4:30am every day, call loudly up the tube to the upper floor, announcing that breakfast was ready. All must rise, like it was an order, and eat her freshly baked biscuits. After breakfast the farmer would go out to feed their horses and cows.
They also owned a peacock, which, every night, would perch on top of the windmill and sleep there. This windmill was, at one time working, together with the tank and well on the opposite (north) side of the lane from the Grahams. This was on the north east of the property now known as #5441.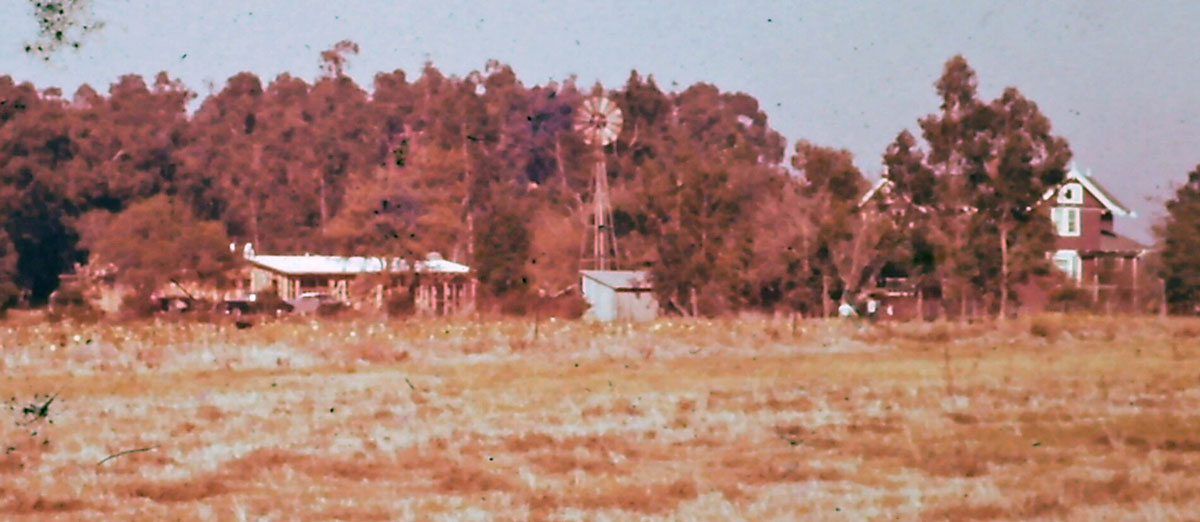 1958. From Meadowlark (called Sunset Airport back then ) looking North. Graham's 1906 farmhouse on the right.
Our house on the left. The eucalyptus grove in background. Now called Gibbs Park. AKA, Butterfly Park.